Spread the Word: It's Poverty Awareness in America Month

As winter sets in and the temperatures grow ever colder, it's no coincidence that January is Poverty Awareness in America month. During this month, we're reminded of the circumstances that many fellow Americans face when it comes to not having the resources and opportunities available to access stable housing, nutritious food, sufficient healthcare and available employment.  And as we see the number of those individuals "living below the poverty line" grow, we also must consider those living just above that line who are still struggling to meet their personal daily needs, as well as those of their families.
What is poverty in America?
In 2022, the following poverty guidelines were published as figures representing annual income in the 48 contiguous states and the District of Columbia.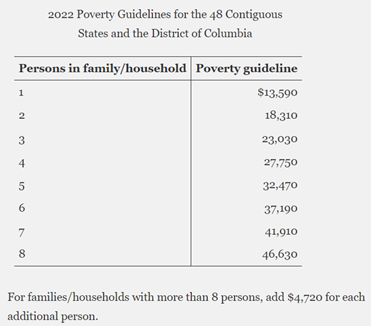 The census data from 2021 indicates 11.6 percent, or nearly 38 million Americans, are living in poverty.  The child poverty rate (for people under 18) is 16.9 percent, while poverty for those 65 years old and older is 10.3 percent.  We can also see how poverty rates vary by ethnic group, with Indigenous, Black and Hispanic people experiencing higher rates of poverty than white (non-Hispanic) and Asian Americans.
The lesbian, gay, bisexual and transgender (LGBT) community also experiences poverty at rates higher than their cisgender counterparts. The graph below was published in October 2019, showing the various breakdowns of those who identify as part of the LGBT community and how they collectively contribute to the poverty rate of 21.6 percent.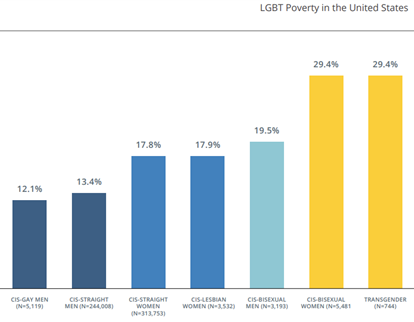 How does poverty relate to our mission as credit unions?
As credit unions, we are uniquely positioned as financial cooperatives to address poverty within the communities we serve. Consider the following cooperative principles as they relate to this issue.
Cooperative Principle #5 – EDUCATION, TRAINING & INFORMATION
Credit unions are valued community resources that provide financial education for all.  Many individuals living in poverty have no access to affordable credit, and the credit union can be a trusted partner to build a borrower's credit worthiness.  The credit union can also work with individuals to build budget plans and save for future expenses.  When people are literally living paycheck to paycheck, it is extremely difficult to add to savings and build a strong financial foundation for the future.
Cooperative Principle #6 – COOPERATION AMONGST COOPERATIVES
As that community partner, credit unions cooperate with other local, state, regional, national and international cooperatives to partner with organizations that bring the needed support, resources and services to the people most in need.  This might include volunteering with or conducting donation drives for local food banks, shelters or health clinics to ensure people's most basic needs are being met.
Cooperative Principle #7 – CONCERN FOR COMMUNITY
While serving their members, credit unions remain focused on sustainable development of communities and addressing the unique needs of the people living there.  They often support charitable organizations meeting the various needs of their communities, and they identify particular financial and lending services that can assist those who are struggling with their specific and personal situations.
Cooperative Principle #8 – DIVERSITY, EQUITY & INCLUSION
Credit unions support diversity, equity and inclusion (DEI) as a shared credit union cooperative principle.  Addressing poverty requires a commitment to advancing DEI and seeking more equitable solutions that benefit all members of our communities.  Equitable access to education, healthcare, food, housing, transportation and technology is essential in the response to poverty, as it contributes the necessary tools to build a future of prosperity for individuals and our societies as a whole.
Another January holiday sheds light on poverty
In January, we also observe Martin Luther King, Jr. Day. Dr. King was not only an anti-racism activist but also a champion for a number of other human rights issues including poverty.  He believed that it was the responsibility of those with the ability to eliminate poverty to do just that. Dr. King said:
"A second evil which plagues the modern world is that of poverty…Almost two-thirds of the peoples of the world go to bed hungry at night. They are undernourished, ill-housed and shabbily clad. Many of them have no houses or beds to sleep in. Their only beds are the sidewalks of the cities and the dusty roads of the villages. Most of these poverty-stricken children of God have never seen a physician or a dentist….There is nothing new about poverty. What is new, however, is that we have the resources to get rid of it."
As members of our credit unions and participants in our communities, we have the resources and influence to make a difference.  This January, commit yourself to learning more about how poverty is impacting the people around you.  Identify a few key actions you can take, either personally or at the credit union, to contribute to the future stability and prosperity of individuals and the communities you serve.