ALCO: Knowing Why is the Recipe for Success


Treasured family recipes are passed down for generations and hold significant memories for the family. I heard of a family that had a secret candied ham recipe that was held in the highest regard and only passed down to the most serious of chefs. When the great-granddaughter was making the recipe for the first time, under careful direction from her aunt, she posed a question about the first instruction. The instruction read, "Cut off 2 inches on each side of the ham and discard," but she wasn't sure why. The aunt didn't know the answer. This started a flurry of messages trying to resolve her question. Ultimately, it was answered by the creator of the dish. The reply? "I did not have a large pan and I had to make it fit."
I find this story an entertaining way to remind myself I need to understand the purpose of my actions, particularly when thinking about the credit union ALCO. While an ALCO meeting is a far cry from a savory recipe, I think the message is applicable. We should know why the reports and agenda items are included. We spend valuable time preparing for each ALCO meeting and need to evaluate if this time is well spent. Often the focus is on creating the reports to meet deadlines, as well as regulatory guidelines, and not on understanding why they are in the packet in the first place. Carving out some time to periodically review the purpose of each report is a great exercise to perform to ensure its relevance.
Each report should be an intentional use of time while keeping in mind our audience. The material needs to be clearly communicated to a diverse group.  As an accounting nerd myself, I understand the desire to show all the details; however, your committee may be getting bogged down with the volume of information. Something as simple as a graph to show a trend can convey a clear message. But, as always, also be ready to answer questions on items when details are needed. Removing obstacles like excess reports and data-heavy details can engage the ALCO and start meaningful conversations.
To use your ALCO meeting time effectively, try to keep the conversation focused on current data to propel sound business decisions for the future. The first step is knowing where you stand with product mix, rates, economy and risk. This creates a solid starting point to identify alignment with the current strategy, as well as where goals have not yet been achieved.
After a current understanding is gained, the conversation should then move into strategy. Where are the shortfalls? Where does the data not align with the strategy? Or, how do we need to adjust given current changes in the market?  Not all problems can have a seat at the table at one time, so identify the priorities and why they are critical, and discuss those while keeping the others for subsequent meetings. When the meeting ends, there should be an active to-do list with items to research and model, gathering data to ensure it supports the strategy while aligning with policy limits and earnings metrics.
Allowing ample time for these discussions is critical and it comes down to sharpening our skills in presenting concise information in the beginning of the meeting to clear time for this part of the agenda. When the strategy portion is rushed, it is difficult to have meaningful discussions and arrive at actionable next steps. We should strive towards creating an accepting environment so that ALCO members feel able to toss around new ideas. And if possible, the ALCO should be comprised of a diverse group encompassing various departments of the credit union.
Often when I'm running a simulation, the sales and marketing team are not initially consulted. After the simulation results are presented to the larger group, I'm right back to the drawing board preparing a second simulation because the ALCO's plan for loan production does not align with the needs of the members. Many of the decisions made in ALCO meetings impact the whole credit union, so communication is important to enable the expertise of various departments to be heard. This is a continuous process to reassess our current strategy, reiterate why we've chosen this path and make the best decisions we can for our members. Models are made to help guide our decisions, adding some analysis to prove our plan or causing us to reevaluate and pivot to a new idea.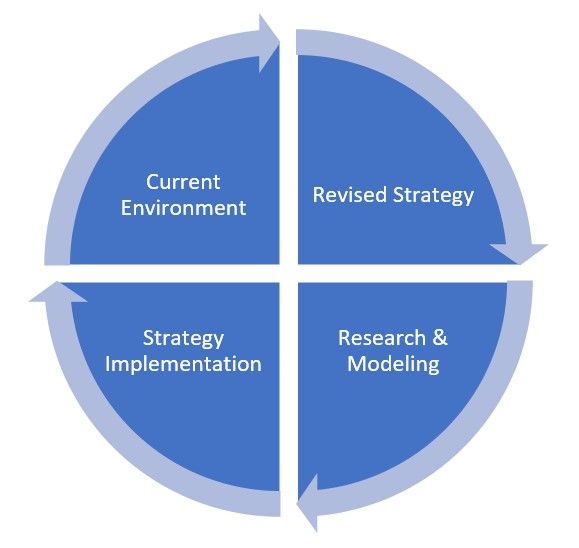 I hear so often, this market is so difficult. And yet, when I recall a year ago, or two years ago (or actually any amount of time), there have always been challenges. Fruitful ALCO discussions do not eliminate these, but can assist management with fleshing out new ideas and ultimately fueling the success of our organizations.
Consider reviewing your current ALCO meeting and reports to gain efficiency and simplicity. Then utilize that time previously spent reviewing ineffective data to fine-tune your strategy by engaging discussion. We are a resilient industry and now is the time to utilize our unique positions to make the most of where we are today, while planning for the future. I don't want to downplay our current environment or to imply this is a magic elixir to fix the margin pressure we see. However, now is the time to refine our process (aka, our recipe) by asking a simple question…why?
---
Melissa Scott serves as Vizo Financial's vice president of ALM services. In this role, she is responsible for managing and providing ALM reporting, modeling, validation and consulting services to credit unions. She is also responsible for providing ongoing training, support and education for ALM users, management and their board of directors. She also holds the designation of certified public accountant (CPA) and is a member of the North Carolina Association of Certified Public Accountants.